GX12 Aviation connectors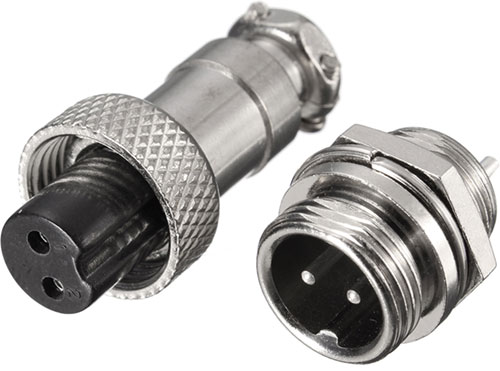 The main task of almost any switching equipment, including connectors, is to ensure a reliable and secure connection. However, the reliability of electrical connections is often affected by operating conditions. Vibration, humidity, ambient temperature – the quality and safety of electrical connections directly depends on each of these factors.
All this has led to the creation of specialized connectors for use in conditions that are significantly different from normal. For example, for the equipment of electrical circuits of aircraft. A number of unfavorable factors affect the electrical equipment of aircraft - acceleration, vibrations, large temperature and pressure differences, shock loads, aggressive environments of fuel vapors, oils.
One of the most famous connectors created for the electrical equipment of aircraft is the GX series connector (GX AviationConnector). This type of connectors was first used in the aerospace industry to protect against vibrations and harsh weather conditions. But as technological innovations evolve and costs continue to decline, it has begun to be used in civilian areas as well. Such, for example, as security systems, vision systems, communication systems, etc.
The GX12 series connectors manufactured by the Chinese company Xiamen Olink Import&Export Co.,Ltd fully comply with the definition of an "aviation" connector. Connectors of this family are dust-proof, and have a degree of protection IP55, guaranteeing operability in a dusty environment, and allows direct ingress of water splashes. The connector housing is made of zinc and nickel, which makes the connector resistant to mechanical damage. The connectors remain operational at ambient temperatures from -40 to 85C° and humidity up to 98%.
Main technical characteristics of GX12 connectors
Operating current, A
15
Operating voltage, V
150
Maximum voltage, V
200
Insulation resistance, mOhm

at 500VDC

1500
Permissible humidity

92...98%

at 40±2°C

Max. overload,

m/sec2

245
Vibration resistance, Hz
10-200 at an acceleration of

98m/sec2

Fur. Resource, cycle.
at least 500
Pressure range

from 101.33kPa

to 6.67Pa

Operating temperature,°C

-40…85
GX12 Connector Mating Selection Table
In general, we can say that the connectors of the GX12 family can be successfully used for switching in radio equipment, telecommunications networks, industrial equipment, various sensors, low-current and signal circuits.