Power modules for a printed circuit board with screw contacts of the IRM-30 series from MEAN WELL
AC/DC type AC/DC converters are one of the most common types of converters in the power supply. Depending on the purpose of the end device, its dimensions, operating characteristics, and so on, the widest possible range of AC/DC converters of various sizes and power is required. One of the popular types is small-sized modular converters installed on a printed circuit board or in the housing of a final device or device.
IRM-30 series converters are modular AC/DC converters for installation on a printed circuit board. The housing of the IRM modules is made of plastic, and has a full silicone filling to improve heat dissipation, which also provides anti-vibration protection and reliable protection from dust and moisture. A feature of the IRM-30 series is the presence of a modification with screw terminals – IRM-30ST, which creates additional convenience in use, since the module housing can be placed not only on a printed circuit board, but on almost any convenient surface.
IRM-30 modules are an effective solution for providing power to individual circuit nodes that require power supply independent of the main circuit, with galvanic isolation, miniature size and high energy density. The modules have high reliability and low cost.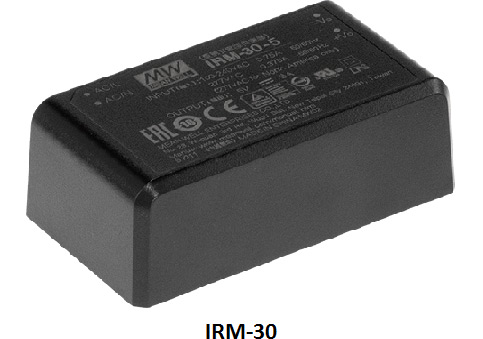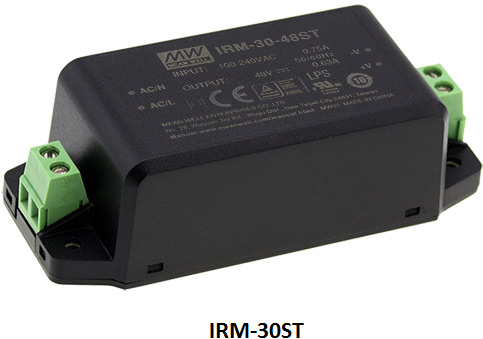 Appearance of IRM-30 and IRM-30ST modular type AC/DC converters
The features of the IRM-30 series AC/DC converters are: small–sized housing, high energy density, standard output voltage range of 5, 12, 15, 24, 48V DC, extended input voltage range of 85-305V AC, normalized output power of 30W. The overall dimensions of the modules for the IRM-30 output type printed circuit board and with IRM-30ST screw contacts and the purpose of the terminals are shown in the figures: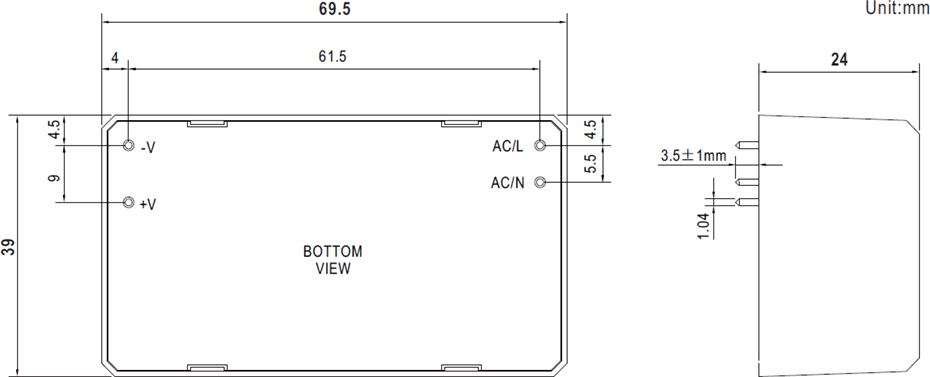 Overall dimensions of the IRM-30 output type module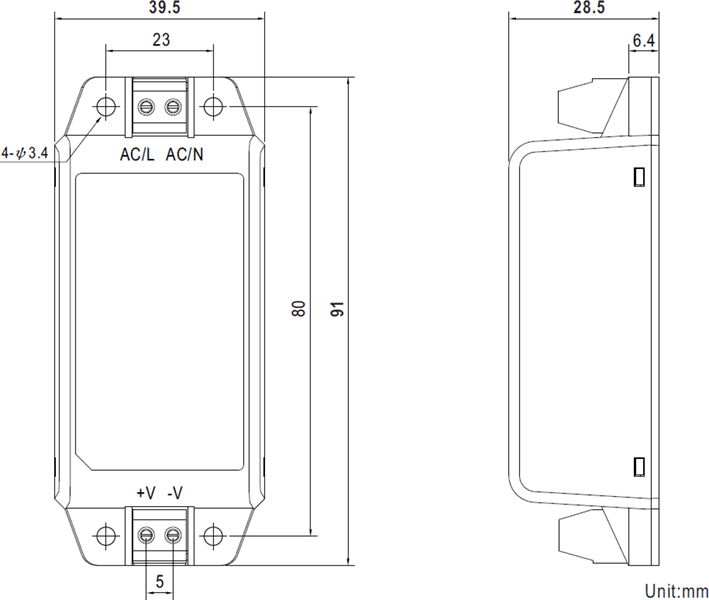 Overall dimensions of the IRM-30ST module with screw contacts
Modules for the IRM-30 series printed circuit board are general–purpose AC/DC converters, and can be used in any application fields - telecommunications, wireless devices, control devices in industrial automation, instrumentation, analyzers, wearable devices and others.
Main technical characteristics and features of IRM-30 series AC/DC converters
Standard output voltage range: 5, 12, 15, 24, 48V DC.
Extended input voltage range:

85-305V AC

(120-430V DC).

Rated output power: 30W.
Execution for the type of printed mounting: output type and with screw clips.
Wide temperature range:

-30°C...+70°C.

Typical protections: short circuit, overload, overvoltage.
Low self-consumption: <0.1W.
Cooling due to natural air ventilation.
Protection class against electric shock: II.
The warranty period is 3 years.
For more detailed technical specifications, see the Specifications for AC/DC converters, and for questions related to the selection and use of MEAN WELL products, please contact the email address Meanwell@chipdip.ru .