ODROID-N2+ 4GB - Amlogic S922X Single Board Computer
27.06.2022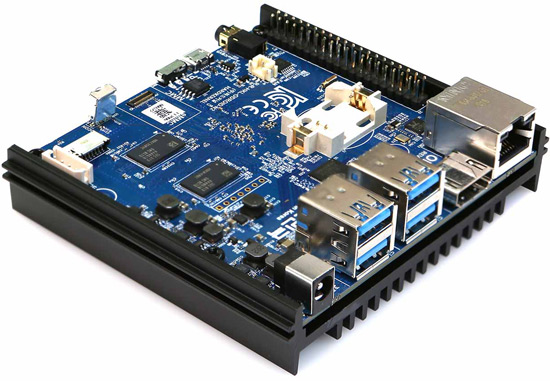 The new ODROID-N2+ 4GB single board computer from the Korean company Hardkernel, based on the Amlogic S922X processor based on the big.Little architecture, which combines a 4-core ARM Cortex-A73 cluster and a 2-core Cortex-A53 cluster with a Mali GPU -G52 new generation.
The mini PC comes already with passive cooling (a pre-installed heatsink), which allows the A73 cores to run at 2.2 GHz without thermal throttling ("throttling").
The main operating systems for ODROID-N2+ are Android Pie (9.0.0), Ubuntu MATE 20.04 and Ubuntu Minimal 20.04. Supported third party distributions include Arch Linux, Archdroid, Armbian, Debian 9, DietPi, CoreELEC, Galv0nized, Manjaro, Volumio 2, and more.
The board is ideal for implementing projects in the field of Internet of Things, Smart Home, robotics, etc.
Board Components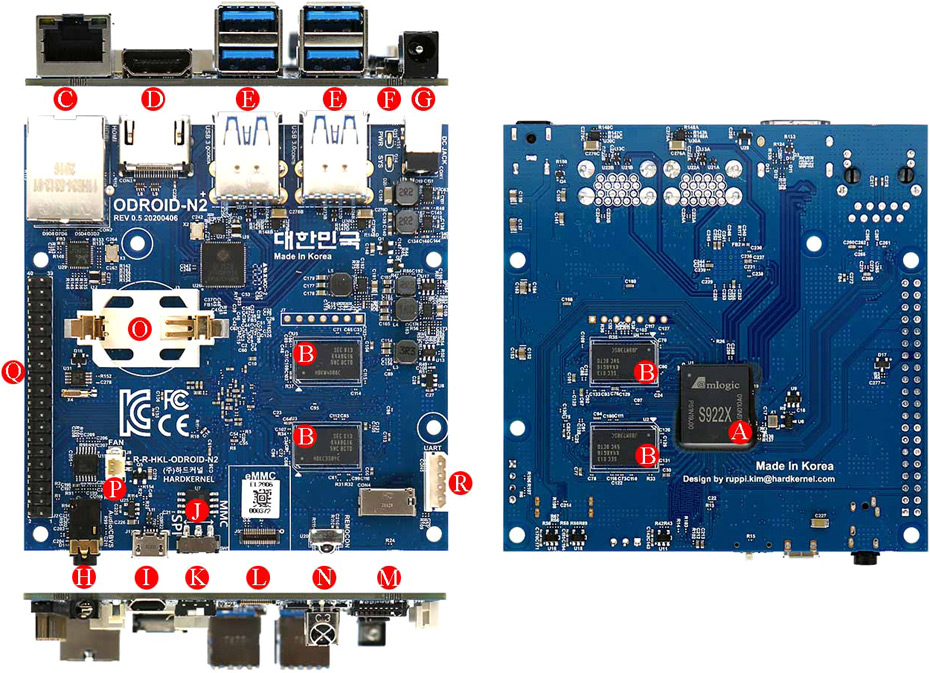 A - S922X CPU
B - DDR4 RAM x 4
C - RJ45 Ethernet port (10/100/1000)
D - HDMI 2.0 port
E - USB 3.0 port x 4
F - LED indicator (System) x 2
G - Power connector
H - AV output (Stereo Audio, Composite video)
I - Micro USB2.0 OTG port
J - 8MB SPI Flash Memory
K - Switch (SPI Boot Select Switch)
L - Connector (eMMC Module Socket)
M - Micro SD card slot
N - IR receiver
O - Battery slot to power RTC
P - Connector for connecting a cooler (2-pin)
Q - GPIO connector (40-pin)
R - UART connector (System Console)
Specifications
CPU:
Amlogic S922X Processor (12nm)
Quad-core Cortex-A73 (2.4GHz) and dual-core Cortex-A53 (2GHz)
GPU:
RAM:
DDR4 4 GB with 32 bit bus width
Transfer rate - 2640 MT / s (class PC4-21333)
Net:
1 x GbE LAN (RJ45, supports 10/100/1000 Mbps)
Realtek RTL8211F (Ethernet transceiver)
Video:
1 x HDMI 2.0 (up to 4K @ 60Hz with HDR, CEC, EDID)
1 x composite video (3.5mm)
Audio:
1 x stereo audio line out (3.5mm jack)
1 x HDMI digital output
1 x optional optical SPDIF output
Storage:
1 x eMMC slot (8GB, 16GB, 32GB, 64GB and 128GB available)
1 x microSD slot (DS/HS modes up to UHS-I SDR104)
External I/O:
4 x USB 3.0 host ports (shared root hub)
1 x USB 2.0 OTG port for host or device mode. (Without power)
1 x debug serial console (UART)
1 x Peripheral Expansion Header (40-pin, 2.54mm pitch)
2 x 5 VDC, 2 x 3.3 VDC, 1 x 1.8 VDC, 8 x GND
1 x SPI
1 x UART
2 x I2C
25 x GPIOs (Max.)
2 ADC inputs (10 bits, 1.8 V max)
All I/O signal levels are 3.3V, except for the ADC input with a maximum voltage of 1.8V.
Other features:
Built-in RTC (real time clock) chip to store date and time. The CR2032 battery holder has been replaced with a 2-pin 1.25mm pitch connector. (There is no battery on the board)
8 MB SPI Flash for download manager
IR receiver for remote control
Built with a large passive heatsink
Food:
1 x 5.5x2.1mm DC Jack: 7.5V~18V DC (up to 25W)
12V/2A DC power adapter recommended