ERU series chokes with high rated current in SMD version from TDK
14.02.2022
Chokes are one of the most demanded components in power electronics, and especially in the modern automotive segment. Chokes are used to suppress interference, smooth out current ripples, store energy in the magnetic field of a coil or core, and decouple circuit parts from each other at high frequency. Therefore, based on such a list of uses, a fairly wide set of requirements apply to chokes, depending on their purpose. By the combination of characteristics among compact chokes (in SMD version) for general purposes, chokes of the ERU series from TDK have gained popularity.
Appearance of ERU series chokes

The ERU series of high current chokes includes 11 sizes, from ERU 13 (13*9.5mm) to ERU62 (62*46mm). A feature of ERU chokes is winding with a flat wire "on edge", which allows to significantly reduce the resistance and achieve high values of the rated current. The use of an E-shaped core with a gap allows you to achieve a high saturation current - up to 41A in the ERU19 size, up to 72A in the ERU24 size and up to 290A in the ERU58 size.
Chokes of the ERU series are designed for use in the temperature range from -40°C to +150°C, which allows them to be used also in one of the most difficult applications - in transport. The presence of an additional contact pad for most types of ERU chokes in SMD design provides additional mechanical stability of the choke on the printed circuit board.
In 2020-21, TDK launched two new ERU choke sizes, 024 and 027, which are also now available for sale. Brief specifications and ordering codes for sizes ERU24 and ERU27 are shown in the tables:
Brief technical characteristics of ERU24 chokes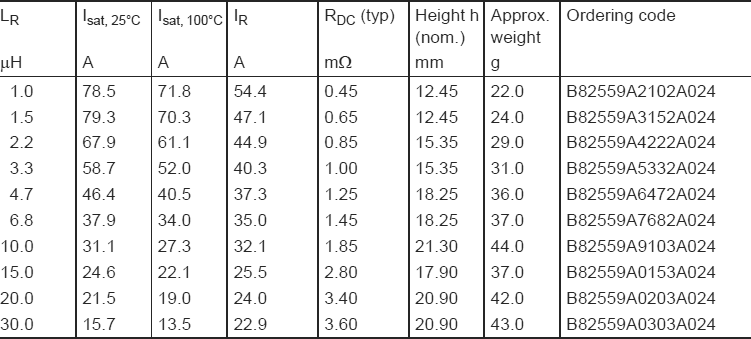 Brief technical characteristics of ERU27 chokes

ERU series chokes can be used in conversion circuits, PFC circuit (Power Factor Correction, Power Factor Correction) as an output or resonant choke in a large number of topologies - buck, boost, buck-boost, resonant, quasi-resonant, etc. The most typical applications are also PoL converters, DC/DC converters, high-current switching power supplies, base stations and power supply for them, charging stations, on-board power supply in vehicles. All ERU series chokes are RoHS-compliant and AEC-Q200 certified.
Features and benefits of ERU series chokes
Compact size achieved through the use of flat wire.
High saturation currents.
Low losses.
ferrite core.
Large selection of sizes.