Cable glands for metal hose with metric thread VK‑M‑MR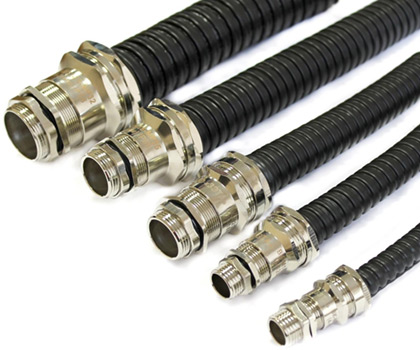 When connecting switchboards, switching boxes, control panels, as well as various electrical equipment, there is always a possibility of damage to the insulation and cores of the power cable by the sharp edges of these devices. In order to avoid this, such a device as a cable entry (hermetic lead, cable sleeve, hermetic seal) is used. The cable entry is a special lock that reliably protects the entry point of the power cable into the device connected with it from mechanical damage. Metal cable glands, in addition, perform another function – they provide grounding of the cable to the housing of the distribution cabinet, or box. It is impossible not to take into account the fact that the cable can be laid in an environment containing explosive gases that can lead to detonation. The cable itself, located in such conditions, will be protected by a metal sleeve. But at the same time, difficulties increase when entering it into the connected electrical equipment.
The cable glands for the VK-M-MR series of metal hoses manufactured by the Kaluga KW Plant are a combination of two devices - a brass cable gland of the M series and an input coupling for a metal sleeve. The cable entry housing, nut and cap nut are made of nickel-plated brass. The pressure insert is made of nylon 6.6. The sealing insert and rings are made of neoprene. All this makes it possible to operate the inputs at temperatures from -40 to 100°C, and withstand a short-term temperature increase to +120°C. VK-M-MR cable glands are resistant to synthetic oils and all types of fuels. They have a degree of protection of 68, and are particularly strong, durable and resistant to aggressive environmental influences.
The main characteristics of the VK-M-MR cable entry
| SKU | Name | Introductory thread | Cable range, mm | Thread length, mm | Inner diameter, mm |
| --- | --- | --- | --- | --- | --- |
| 87943 | VK-M12(4-8 mm)-MP10 | M12 | 4…8 | 6,5 | 8 |
| 87944 | VK-M16(4-8 mm)-MP10 | M16 | 4…8 | 8 | 8 |
| 87945 | VK-M16(4-8 mm)-MP12 | M16 | 4…8 | 8 | 8 |
| 87946 | VK-M16(6-12 mm)-MP15 | M16 | 6…12 | 8 | 12 |
| 87947 | VK-M20(6-12 mm)-MP15 | M20 | 6…12 | 8 | 12 |
| 87948 | VK-M20(8-16 mm)-MP20 | M20 | 8…16 | 8 | 16 |
| 89105 | VK-M25(6-12 mm)-MP15 | M25 | 6…12 | 9 | 12 |
| 87950 | VK-M25(8-16 mm)-MP20 | M25 | 8…16 | 9 | 16 |
| 87951 | VK-M25(13-18 mm)-MP25 | M25 | 13…18 | 9 | 18 |
| 89106 | VK-M32(8-16 mm)-MP20 | M32 | 8…16 | 10 | 16 |
| 89107 | VK-M32(13-18 mm)-MP25 | M32 | 13…18 | 10 | 18 |
| 87953 | VK-M32(16-25 mm)-MP25 | M32 | 16…25 | 10 | 25 |
| 87954 | VK-M32(16-25 mm)-MP32 | M32 | 16…25 | 10 | 25 |