Volumio, ChipDip DAC inside. Novelties of our production
01.03.2022
In the fall of 2021, as a result of collaboration with programmers from the Raspberry Pi Foundation, we successfully combined the ChipDip DAC driver with the core operating system for Raspberry Pi microcomputers. After that, our audio cards successfully, without any complicated settings, were able to reproduce the highest quality sound from any players, games or cinemas installed on the Raspberry Pi OS.
Further, during the winter months of 2021-22, all software multimedia products gradually switched to the new Linux OS kernel.
We have been waiting for the integration of the ChipDip DAC driver into Volumio - the most popular player for music from any source that exists today. Starting from physical drives, network drives and ending with all popular streaming services.
And yesterday (28-02-2022) Volumio version 3.233 was released, which, after working with the Volumio team, includes support for the ChipDip DAC driver.
CHANGELOG
3.233 (28-02-2022)
FIXES
Don't show Wireless flow if wireless already connected
Allow to disable metadata retrieval
Fix Volumio pull command
Make plugin manager resilient to version compare fails
Improve MyVolumio remote connection
Fix crash on CD Plugin if metadata not found
Add ChipDip DAC Support
Fix Critical Error on HRA
Fix stop for TIDAL, TIDAL Connect and QOBUZ
Just go to the settings of the Volumio audio player and select our ChipDip DAC from the list of audio cards.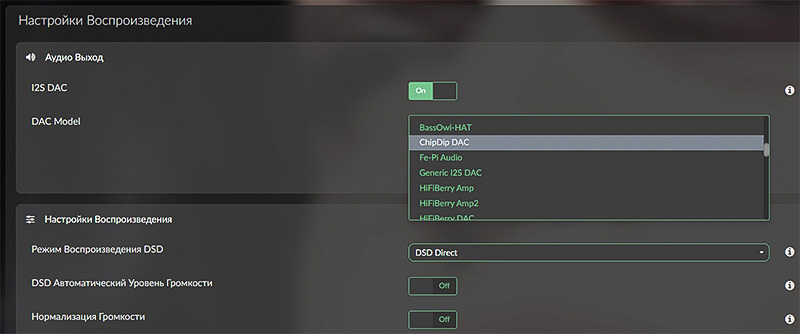 Enjoy!