A1215S-1WR3, DC/DC converter, 1W, input 10.8-13.2V, output 15,-15V/34mA
Images are for reference only,
see technical documentation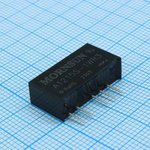 64 pcs. from the central warehouse,

term 5-7 working days
Add to Shopping Cart

1

pcs.
amount of

620

֏
Description
A1215S-1WR3 are miniature DC-DC converters from 12V to ±15V with common point, galvanic isolation 1500VDC/1min and output power 1W.
They have high efficiency over the entire load range up to 81%. Low through capacitance up to 20pF. Continuous short circuit protection with automatic recovery.
Extended operating temperature range -40...105 C. SIP-7 housing.
Technical parameters
Series
a_s-1wr3
Min input voltage, V
10.8
Max. Input voltage, V
13.2
Rated input voltage, V
12
Number of outputs, pcs
2
Maximum output current, A
0.034
Power, W
1
Energy conversion efficiency (COP),%
81
Output noise, mV
75
Isolation voltage, V
1500
Working temperature, C
-40…105
Design
sip7
Output voltage, V
15, -15
Weight, g
2.1
Technical documentation
Delivery terms
Delivery to Yerevan
Office CHIP AND DIP

3 October1

free

HayPost
6 October1
1 650

֏

2
1
estimated delivery date depends on the date of payment or order confirmation
2
for parcels weighing up to 1 kg