AVM-161-50 (HS 117-50), Radiator 50x43x20mm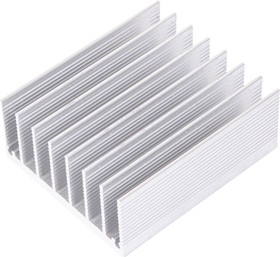 Images are for reference only,
see technical documentation
108 pcs. from the central warehouse,

term 5-7 working days
Add to Shopping Cart

1

pcs.
amount of

244

֏

Description
Ribbed radiators AVM are made of aluminum alloy AD31 by extrusion. During extrusion (lat. extrusion), liquid aluminum alloy is forced through steel plates with holes of a certain shape and section, resulting in profiles of a certain shape, which are subsequently cut into radiators of the desired length. Extruded radiators, even with smaller overall dimensions, show better thermal conductivity characteristics compared to cast radiators.
AVM radiators have a micro-relief on the fins, which significantly increases the surface area, and hence increases heat dissipation.
Our range includes models of various lengths. However, according to the customer's specification, it is possible to supply radiators of the required length with additional machining (drilling, milling, threading).
Technical parameters
Specific thermal resistance, 100mm*deg/W
4.1
Length, mm
50
Width, mm
43
Height, mm
20
Location of ribs
Unilateral
Surface area, sq. cm
193
Thermal Resistance, deg/W
8.2
Surface coating
no
Weight, g
40
Technical documentation
Delivery terms
Delivery to Yerevan
Office CHIP AND DIP

10 October1

free

HayPost
13 October1
1 650

֏

2
1
estimated delivery date depends on the date of payment or order confirmation
2
for parcels weighing up to 1 kg