CRC 5-56 250ml, Universal grease (similar to WD-40)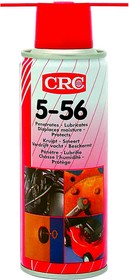 Images are for reference only,
see technical documentation
6 pcs. from stock Yerevan, 1 working day
30 pcs. from the central warehouse,

term 5-7 working days
Add to Shopping Cart

1

pcs.
amount of

1 960

֏

Description
Multifunctional liquid lubricant with high impregnating and lubricating properties, which penetrates dirt and corrosion, displaces water and removes rust and dirt growths.
The basis of CRC 5-56 is paraffin oil and a complex organic inhibitory system that prevents oxidation by forming a long-term protection against water and oxygen.

Features
It penetrates quickly even into very narrow pores and cracks in the surface.
Lubricates and returns the smoothness of the rubbing surfaces.
Removes moisture from all electrical and ignition systems, making it possible to start the engine.
Softens the formed rust between the rubbing surfaces, returning the possibility of their further work.
Eliminates annoying creaking.
Leaves a thin film that protects the metal from oxidation.
Easily restores working properties without the need for disassembly.
It is safe for all metals and alloys.
Safe for most painted surfaces, coatings, plastic and rubber (if in doubt - check before use);
Aerosol cans are equipped with a valve (works in any position of the cylinder) and an additional tube for ease of use.
Aerosols are under the pressure of a non-flammable gas, which displaces CO2, which allows the full volume of the cylinder to be used by 97% (that is, 30% more than conventional hydrocarbon propellant gases.

A modern universal assistant for hundreds of repairs in all areas.
Electrical parts: connectors, switches, ignition coils, etc.
Cars: ignition system, distributor, cables, starter, antennas, bolted connections, chrome-plated parts, seat slides, door locks and hinges, etc.
House: locks, latches and hinges, door and window fittings, scissors, zippers, trolleys, etc.
Leisure: fishing reels, bicycles, garden tools, skateboards, ski mounts, golf buggy and much more.
Hundreds of other applications in the repair shop, garage, construction site, factory, office, garden plot, home.
Technical parameters
Type
spray/aerosol
Weight, g
270
Delivery terms
Delivery to Yerevan
Office CHIP AND DIP

2 October1

free

HayPost
12 October1
1 650

֏

2
1
estimated delivery date depends on the date of payment or order confirmation
2
for parcels weighing up to 1 kg