Efip-08AF, TV antenna, active, DVB-T/DVB-T2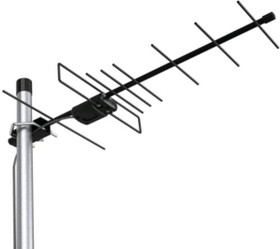 Images are for reference only,
see technical documentation
Retail only.

Price and delivery time on request
Add to Shopping Cart

1

pcs.
amount of

2 420

֏
Brand / Manufacturer:
Locus
Description
Antenna of the EFIR series, active. Made from steel. Designed to receive DVB-T/T2 digital television signals. Connection type: F-connector.
Power supply not included. If necessary, it is recommended to use the LI series power injector.
Specifications:
Frequency range, MHz:
470-862
Gain, dBi, not less than:
Gain factor, not less than, dB
27-30
Amplifier noise figure, dB
3.7
Overall dimensions (LxWxH), mm:
495x300x70
Standing Wave Ratio:
Standing Wave Ratio
2
Other Features:
Wave resistance, Ohm
75
Amplifier supply voltage, V
5±0.3
Amplifier consumption current, mA
40
Number of elements, pcs.
eight
Technical documentation