HDMI / I2S audio adapter, I2S interface transceiver via HDMI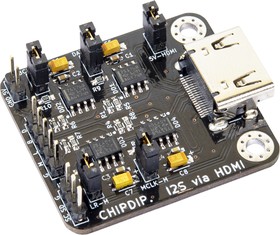 Images are for reference only,
see technical documentation
93 pcs. from the central warehouse,

term 5-7 working days
Add to Shopping Cart

1

pcs.
amount of

1 640

֏
Description
The module is designed to transmit in-circuit I2S signals over long distances, which allows, for example, to separate the USB converter and DAC into separate blocks.
The modules are connected to each other with a standard HDMI cable. Each module can be an I2S transmitter or receiver. In addition to a set of I2S signals - MCLK, LR, BCLK, Data, I2C bus signals can be transmitted through the modules to configure the DAC. The diagram shows the pinout of the HDMI connector.
Any signal can be configured to receive or transmit.
Input/output signal level: TTL 3.3V
Supply voltage external or via HDMI connector: 5V
Scheme
Purpose of connectors
Technical parameters
Technical documentation
Delivery terms
Delivery to Yerevan
Office CHIP AND DIP

2 October1

free

HayPost
5 October1
1 650

֏

2
1
estimated delivery date depends on the date of payment or order confirmation
2
for parcels weighing up to 1 kg