KKSV (01-4021) [Bay-8 M.], Video surveillance cable (coaxial + 4x0.5mm) white [Bay-8 M.]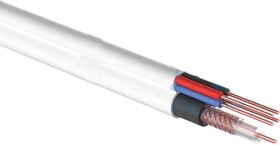 Images are for reference only,
see technical documentation
2 pcs. from the central warehouse,

term 5-7 working days
Add to Shopping Cart

1

pcs.
amount of

1 780

֏
Brand / Manufacturer:
China
Description
For complex video surveillance systems that require high-quality signal transmission and reliable operation of the camera, a special combination cable is used that combines a coaxial cable for transmitting a video signal and power wires that provide power to the camera.

The coaxial part of the cable (analogue 3c-2v) consists of a central copper conductor insulated with a polyethylene dielectric and a copper shield superimposed on the core, which ensures the electrical continuity of the conductor. Additional 4 power cores are copper conductors with a diameter of 0.5 mm, enclosed in insulation painted in different colors.

Combined video surveillance cable +4 cores 100m white has an outer sheath made of white PVC.
Delivery terms
Delivery to Yerevan
Office CHIP AND DIP

10 October1

free

HayPost
13 October1
1 650

֏

2
1
estimated delivery date depends on the date of payment or order confirmation
2
for parcels weighing up to 1 kg