KKSV-P (01-4002) [Bay-3 M.], Video surveillance cable (coaxial +2x0.5mm), black [Bay-3 M.]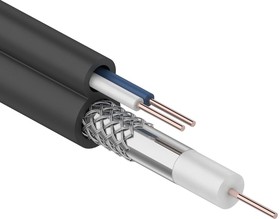 Images are for reference only,
see technical documentation
5 pcs. from the central warehouse,

term 5-7 working days
Add to Shopping Cart

1

pcs.
amount of

399

֏
Brand / Manufacturer:
China
Description
As part of video surveillance systems, a special type of cable is used - combined. The combo cable consists of a coaxial cable that carries the high frequency video signal to the receiver and two power wires needed to power the camera. The coaxial part of the video surveillance cable +2 cores 100m black is a copper coaxial 3s-2v with a central conductor made of high quality copper and a screen that protects the signal from interference. Two additional power wires are copper monocores with a diameter of 0.5 mm. Combined video surveillance cable +2 cores 100m black has polyethylene insulation and is painted black. Polyethylene protects the cable from moisture, ultraviolet radiation and temperature extremes. The cable can be laid outdoors.
Delivery terms
Delivery to Yerevan
Office CHIP AND DIP

9 October1

free

HayPost
12 October1
1 650

֏

2
1
estimated delivery date depends on the date of payment or order confirmation
2
for parcels weighing up to 1 kg