L-UTP4-S [M-6 Coil], UTP Twisted Pair, 4 Cat5e Pairs, 24AWG Single Core Unshielded [M-6 Coil]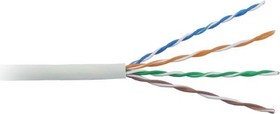 Images are for reference only,
see technical documentation
3 pcs. from the central warehouse,

term 5-7 working days
Add to Shopping Cart

1

pcs.
amount of

930

֏
Brand / Manufacturer:
China
Description
Cable UTP 4PR single core CAT5e 305m.
Unshielded twisted pair, conductor material is highly purified oxygen-free copper, 0.5 mm in diameter. The sheath material is PVC. A twisted pair cable connects and transmits a signal between computers, computers and a server.

Pass Fluke Test - Mandatory test at the factory!

CABLE APPLICATION:
- Local networks of general purpose.
- Home networks.
- Small business networks.
- Computer networks.
- Data networks.
- Telephony.
- Digital television.
- Video surveillance systems (IP-cameras).
- Security and access control systems.
- Highly specialized networks (commercial equipment, warehouse networks, production networks using non-standard peripheral equipment, such as machine tools, CVTs, printing machines).



TECHNICAL DESCRIPTION:
- The cable has 8 (eight wires), four pairs.
- The material of the conductor is highly purified oxygen-free copper, with a diameter of 0.5 mm.
- Conductor insulation - high density polyethylene (HDPE), 0.88 mm in diameter.
- Shielding, UTP - NO SHIELD.
- External PVC insulation - polyvinyl chloride (PVC), thickness 0.5 mm.
- Overall cable diameter 4.9 mm.
- Packing: bay 305 m.

Technical documentation
Delivery terms
Delivery to Yerevan
Office CHIP AND DIP

9 October1

free

HayPost
12 October1
1 650

֏

2
1
estimated delivery date depends on the date of payment or order confirmation
2
for parcels weighing up to 1 kg