LDH-25-350W, DC/DC LED Driver, 25.2W, In 9.5-32V, Out 12.5-72V/350mA, LED Lighting Converter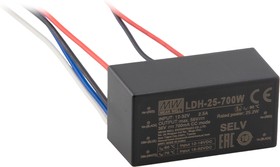 Images are for reference only,
see technical documentation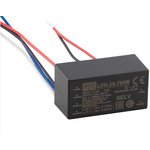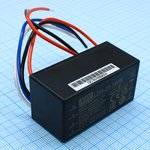 Price and delivery time on request
Add to Shopping Cart

1

pcs.
amount of

2 200

֏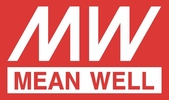 Description
LDH-25 series power supplies are small and medium power direct current (DC) to direct current (DC) converters (LED drivers) for powering current-stabilized LED products - luminaires, LED modules and individual LEDs. The type of DC/DC converter is step-up, in this topology the output voltage range is shifted upward relative to the input voltage. LDH-25 power supplies operate in a wide input voltage range - from 9.5 to 32V (DC) with an output voltage range - from 12.5 to 84V (DC) depending on the model. Features of LDH-25 power supplies are: output current stabilization (
Constant Current, CC
);
2-in-1 dimming
(PWM and 0-10V DC); high efficiency; miniature plastic case.
In the LDH-25 series of converters, the model is determined by the value of the stabilized output current - 250, 350, 500, 700 mA (for example, LDH-25-350, LDH-25-700W). Also in the series there are two modifications (encoded by the last letter):
No letter - terminals for module desoldering on a printed circuit board (pin style).
W - wired outputs (wire style).
Technical parameters
Input voltage, V
9.5…32
Output voltage range, V
12.5…72
Maximum output current, A
0.35
Power, W
25.2
Dimensions, mm
52.4x27.2x24
Series
ldh-25
Weight, g
57
Technical documentation