MS-900, 4 in 1 Soldering Repair Station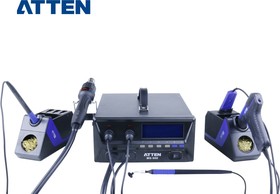 Images are for reference only,
see technical documentation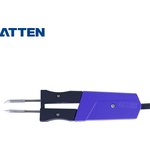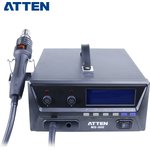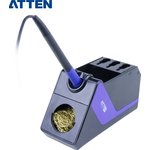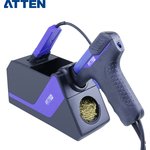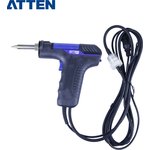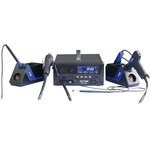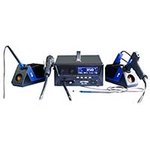 137 pcs. from the central warehouse,

term 5-7 working days
Add to Shopping Cart

1

pcs.
amount of

391 000

֏
Brand / Manufacturer:
Atten
Description
Designed for high-precision work and is a complete solution for soldering, repairing and finalizing printed circuit assemblies using a soldering iron, hot tweezers, vacuum suction and a hot air gun.
A vacuum manipulator is used to position the components.
High precision microcontroller control
Built-in vacuum generator
Maximum output power 900W.
The graphic display shows all kinds of parameters.
Microcontroller temperature control
Error display and alarm functions
main parameters
Power consumption
900W(MAX)

AP-552B

hair dryer

GT-Y130

soldering iron

GT-X150

desoldering gun

GT-N100

Electrotweezers

Power
Heating element 550W, air pump 25W
130W
Heating element 150W, vacuum pump 15W
100W
Temperature range
150-500℃/302-932℉
Standby temperature
Not
200℃
300℃
200℃
Waiting time
NA
1-120 minutes (0 when disabled)
Air flow
23L/min(Max) 5L/min(Min)
/
/
/
Noise
<52dB(A)
/
/
/
Temperature calibration
±50℃/±90℉
Fixing settings
Yes
temperature stability
±5℃
±2℃
±2℃
±2℃
Tip resistance
<2Ohm
Tip Potential
<2mV
Technical parameters
Contact soldering
assembly / disassembly
Contactless soldering
hot air
Temperature display
Yes
Power consumption, W
900
Weight, kg
13.8
Technical documentation
Video
Delivery terms
Delivery to Yerevan
| | | |
| --- | --- | --- |
| Office CHIP AND DIP | 3 October1 | free |
1
estimated delivery date depends on the date of payment or order confirmation