RS485 TO ETH (for EU), RS485 to Ethernet Converter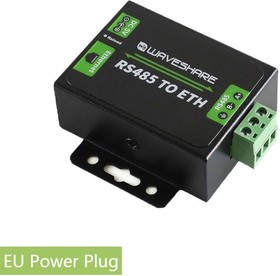 Images are for reference only,
see technical documentation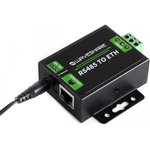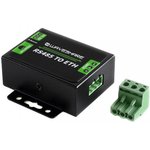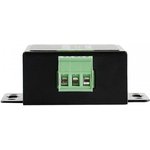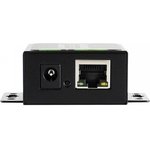 149 pcs. from the central warehouse,

term 5-7 working days
Add to Shopping Cart

1

pcs.
amount of

13 200

֏

Description
RS485 to Ethernet interface converter, high speed, low power consumption, high stability.

Peculiarities:
- M0 series 32-bit ARM processor, high speed, high efficiency;
- Ethernet interface 10/100M Auto-MDI/MDIX, regardless of cross or straight cable;
- Configurable baud rate (600bps~230.4kbps), support five
control bit modes (Parity): None, Odd, Even, Mark, Space;
- Available operating modes: TCP server, TCP client, UDP server, UDP client, HTTPD client (supports GET and POST);
- Configurable via web page, AT commands, serial protocol and network protocol, provides a configuration protocol that can be integrated into your own software;
- Supports custom heartbeat packets to make sure the connection is true and to actively receive sensor data;
- Supports custom registration packages, automatically passing the registered package as an identifier after a connection is established, so that different devices can be distinguished;
- Supports customizable web page, allows the user to customize the module configuration page;
- Supports a protocol similar to RFC2217, allows you to communicate with devices whose serial port settings (baud rate, data bits, etc.) may change;
- KeepAlive mechanism, disconnection detection, automatic reconnection;
- Supports reboot by timeout (reboot without data), provides long-term stable connection, configurable reboot time;
- Supports DNS domain name resolution, customizable DNS server;
- Supports DHCP, auto-obtained IP address or static IP address;
- Firmware can be updated via network;
- Restoring factory settings using software and / or hardware;
- Comes with a default MAC address that can be customized.

Characteristics:
- Power supply: 5~7V (recommended 5V);
- Operating current: 150mA (at 5V);
- Power consumption: <1W;
- Interface protection: reverse-proof, ESD protection, surge protection.
- Working temperature: -27~75°C.

- Ethernet:
- Connector: 4-pin RJ45;
- Communication speed: 10/100 Mbps;
- Interface protection: electromagnetic isolation 1.5 kV;
- Protocols: IP, TCP, UDP, ARP, ICMP, DHCP, DNS, HTTPD client;
- TX cache: 16 KB;
- RX cache: 16 KB.

- RS485:
- Connectors: RS485 screw terminal (A+, B-, GND);
- Data bit: 5 bit, 6 bit, 7 bit, 8 bit;
- Stop bit: 1, 2;
- Parity bit: None, Odd, Even, Mark, Space;
- Baud rate: 600bps~230.4kbps;
- RX cache: 800 bytes;
- Interface protection: 2KV ESD protection;
- Pull-up resistor: 2.2 kOhm.

Equipment:
1 x Converter (RS485 TO ETH);
1 x Adapter (5V power adapter (EU plug)).
Technical parameters
Converter type
rs-485 to ethernet
Number of ports
1
Body material
metal
Mounting type
installation on a flat surface
Connector type
rs-485(terminals)/ethernet(rj45)
Galvanic isolation
no
Protection against impulse noise
There are
Weight, g
225
Technical documentation
Delivery terms
Delivery to Yerevan
Office CHIP AND DIP

3 October1

free

HayPost
6 October1
1 650

֏

2
1
estimated delivery date depends on the date of payment or order confirmation
2
for parcels weighing up to 1 kg