USB TO 4CH TTL, USB to 4CH TTL Converter, USB to UART
Images are for reference only,
see technical documentation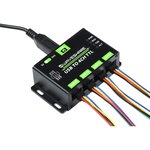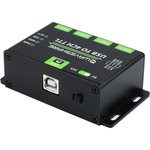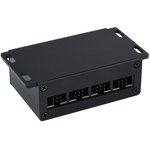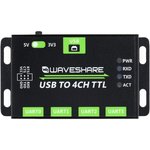 20 pcs. from the central warehouse,

term 5-7 working days
Add to Shopping Cart

1

pcs.
amount of

10 400

֏

Description
Converter USB interface to 4 channels TTL, USB to UART.

Peculiarities:
- USB extension to 4CH TTL (UART) with hardware flow control, provides simultaneous and independent communication for each channel;
- Built-in resettable fuse and protection diodes provide stable current/voltage outputs;
- Built-in I/O protection circuit for surge suppression and ESD protection;
- Built-in 3.3V and 5V voltage level switch, allows you to select TTL level;
- Aluminum alloy body;
- Quality USB-B connector and IDC connector.

Characteristics:
- Operating voltage: 5 V;
- Operating current: 32 mA;
- Serial baud rate: 1200 bps ~ 11520 bps;
- TTL voltage: 3.3V/5V (configurable);
- Working temperature: -40°C ~ 85°C;
- Supported OS: Mac OS, Linux, Windows 11/10/8.1/8/7, Android.

Equipment:
1 x Converter (USB TO 4CH TTL);
1 x Cable (USB cable (~1.2m) );
1 x Cable (6PIN squid wire (~20cm) x4).
Technical parameters
Converter type
usb to ttl
Number of ports
4
Body material
metal
Mounting type
installation on a flat surface
Connector type
usb/ttl(8-pin connector)
Galvanic isolation
no
Protection against impulse noise
There are
Weight, g
169
Technical documentation
Delivery terms
Delivery to Yerevan
Office CHIP AND DIP

3 October1

free

HayPost
6 October1
1 650

֏

2
1
estimated delivery date depends on the date of payment or order confirmation
2
for parcels weighing up to 1 kg