UTP4-S ng(A)-HF LSZH (01-0049) [coil-8 M.], Twisted pair UTP (fire-resistant), 4 pairs Cat5e, 24AWG single-core unshielded [coil-8 M.]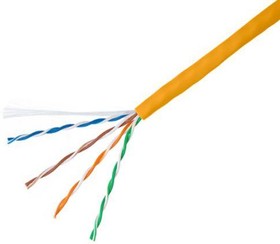 Images are for reference only,
see technical documentation
1 pcs. from the central warehouse,

term 5-7 working days
Add to Shopping Cart

1

pcs.
amount of

1 980

֏
Brand / Manufacturer:
China
Description
Cable UTP 4PR 24AWG CAT5e 305m ng(A)-HF - Unshielded twisted pair, conductor material highly purified oxygen-free copper, 0.5 mm in diameter. (24 AWG). Sheath material - ng(A)-HF, fire-resistant, flame retardant in group laying, halogen-free composite, low fire hazard with low corrosivity of combustion products and smoldering.
The cable is used for single or group laying (taking into account the volume of combustible load) power supply circuits for electrical receivers of fire protection systems, operating rooms and resuscitation and anesthesia equipment of hospitals and hospitals, in crowded places (hospitals, schools, gardens, shopping centers, airports, train stations , metro), as well as in other important life support systems that must remain operational in a fire.

CABLE APPLICATION:
- Local networks of general purpose.
- Home networks.
- Small business networks.
- Computer networks.
- Data networks.
- Telephony.
- Digital television.
- Video surveillance systems (IP-cameras).
- Security and access control systems.
- Highly specialized networks (commercial equipment, warehouse networks, production networks using non-standard peripheral equipment, such as machine tools, CVTs, printing machines).
A twisted pair cable connects and transmits a signal between computers, computers and a server.

TECHNICAL DESCRIPTION:
- The cable has 8 (eight wires), four pairs (4PR).
- The material of the conductor is highly purified oxygen-free copper, with a diameter of 0.5 mm.
- Conductor insulation - high density polyethylene (HDPE), 0.9 mm in diameter.
- Shielding, UTP - NO SHIELD.
- External insulation HF, thickness 0.5 mm.
- Overall cable diameter 5.4 mm.
- Cable bending radius minimum withstands 8 (eight) external cable diameters.
- Frequency range 1-100 MHz.
- Operating temperature from minus 30 C to plus 75 C, laying and installation of cables must be carried out at a temperature not lower than minus 10 C.
- Packing: bay 305 m.
- Service life of 25 years.
Delivery terms
Delivery to Yerevan
Office CHIP AND DIP

10 October1

free

HayPost
13 October1
1 650

֏

2
1
estimated delivery date depends on the date of payment or order confirmation
2
for parcels weighing up to 1 kg