ECAP SMD, 100 UF, 50 V, 105°C, 20% 10x10.5mm, JCK1H101M100105, Electrolytic aluminum SMD capacitor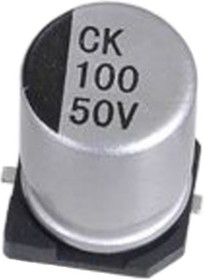 Images are for reference only,
see technical documentation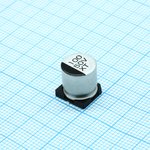 11622 pcs. from the central warehouse,

term 5-7 working days
Add to Shopping Cart

1

pcs.
amount of

71

֏
Description
Electrolytic chip capacitors are widely used for surface mounting.
Aluminum electrolytic capacitors, due to the electrochemical principle of operation, have the following advantages:
• high specific capacitance, which makes it possible to manufacture capacitors with a capacity of more than 1F;
• high maximum allowable ripple current;
• high reliability.
Capacitance rating range: 1 uF - 1000 uF
Working voltage: 6.3V, 10V, 16V, 25V, 35V, 50V.
Technical parameters
Type
JCK
Operating voltage, V
50
Nominal capacitance, uF
100
Tolerance of nominal capacity,%
20
Working temperature, C
-40…105
Tangent of loss angle,%
0.14
Leakage current max., ΜA
3
Leads / case
smd
Case diameter D, mm
10
Body length L, mm
10.5
Weight, g
1.323
Technical documentation
Delivery terms
Delivery to Yerevan
Office CHIP AND DIP

6 October1

free

HayPost
11 October1
1 650

֏

2
1
estimated delivery date depends on the date of payment or order confirmation
2
for parcels weighing up to 1 kg