Scratch and Arduino for young programmers and designers 2nd edition, Book Vinnitsky Yu., Grigoriev A., basics of programming in the Scr language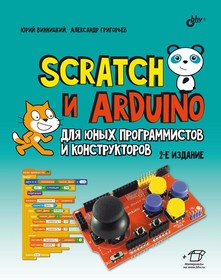 Images are for reference only,
see technical documentation
7 pcs. from the central warehouse,

term 5-7 working days
Add to Shopping Cart

1

pcs.
amount of

3 120

֏
Description
The book was written based on the experience of working with children in grades 3-11 and is dedicated to the creative projects of young programmers and designers. Using the example of turtle graphics algorithms and simple computer games, children will get acquainted with creative programming in the Scratch visual environment. The use of Arduino boards, expansion boards and various external sensors in entry-level design projects is considered. The basics of visual programming of these devices in the mBlock environment in two modes, interactive and offline, are given by writing interactive computer games in which the character is controlled by the Arduino console, as well as by creating autonomous "smart things" that work under the control of Arduino without connection. to the computer. The second edition is supplemented with advanced level projects.
The electronic archive on the publisher's website contains additional materials and listings of all programs.
From the authors
Do you want to learn how to create computer games? Manage them with the help of original remotes, assembled by yourself? Create "smart" devices to control home appliances? Then this book is for you! Step by step, you will go through the most interesting path of a developer of creative game projects, get acquainted with the wonderful Scratch and mBlock programming environments and get comfortable in the world of modern electronics. Read, try, create, create your own projects.
Go for it - you are talented!
And we can help a little!
Technical parameters
Technical documentation
Delivery terms
Delivery to Yerevan
Office CHIP AND DIP

3 October1

free

HayPost
6 October1
1 650

֏

2
1
estimated delivery date depends on the date of payment or order confirmation
2
for parcels weighing up to 1 kg