F971C335MBA, Tantalum Capacitors - Solid SMD 16V 3.3uF 3.2x2.7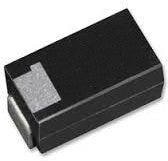 * Images are for reference only,
see technical documentation
2000 pcs.,

term 11-13 weeks
Add to Shopping Cart

1

pcs.
amount of

1 290

֏
Description
Passive Components\Capacitors\Tantalum Capacitors\Tantalum Capacitors - Solid SMD
MnO2 Automotive Tantalum Capacitors
Kyocera AVX Automotive MnO2 Tantalum Capacitors meet the automotive industry's specifications for high temperature capacitors up to 250°C, and also meet high reliability requirements. The wide range of Kyocera AVX automotive capacitors also meet various operating temperature, process voltage and reliability requirements for use in a variety of automotive applications, from in-car entertainment, airbags and ABS to direct engine applications.
Technical parameters
Technical documentation