DRC-180 - Power supplies with UPS function from MEAN WELL
09.02.2023
Uninterruptible power supplies (UPS) are one of the most popular categories of DIN rail power supplies. In accordance with the wishes of customers, MEAN WELL has increased the output power of the DRC series power supplies to 180W, which allows us to expand the scope of these power supplies for more powerful loads.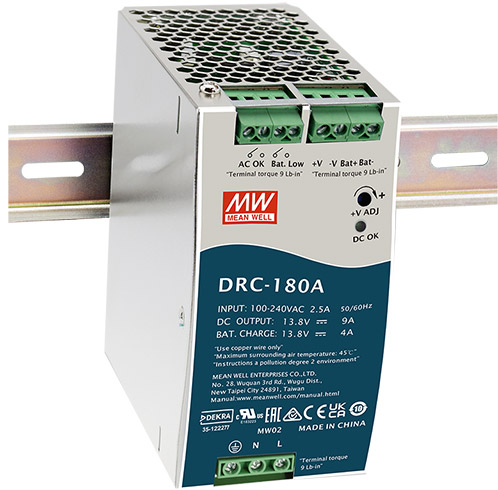 Appearance DRC-180
Model
DRC-180A
DRC-180B
Exit
(DC)
Channel number
CH1
CH2
CH1
CH2
Output voltage,

U (DC)

13.8V
13.8V
27.6V
27.6V
Rated current, Inom.
9A
4A (battery charging)
4.5A
2A (battery charging)
Output current range, I
0…13A
-
0…6.5A
-
Rated power, P
179.4W
179.4W
Entrance
(AC)
Input voltage range,


U (AC),

U (DC)

90…264V (AC)
127…370V (DC)
Operating frequency range, F
47…63Hz
Power factor, PFC
≥0.95/230V(AC)
≥0.98/115V (AC)
efficiency
88%
90%
Input current, I
2.5A/115V (AC)
1.5 A/230 V (AC)
DRC power supplies are widely used in control and safety systems, fire protection, information transmission, automatic control and other areas where it is critical to maintain performance during power outages.
The converters are a switching power supply and a battery charger in one device. In normal mode, the power supply operates, which powers the load and charges the battery. When the power is turned off, it automatically switches to battery power supply.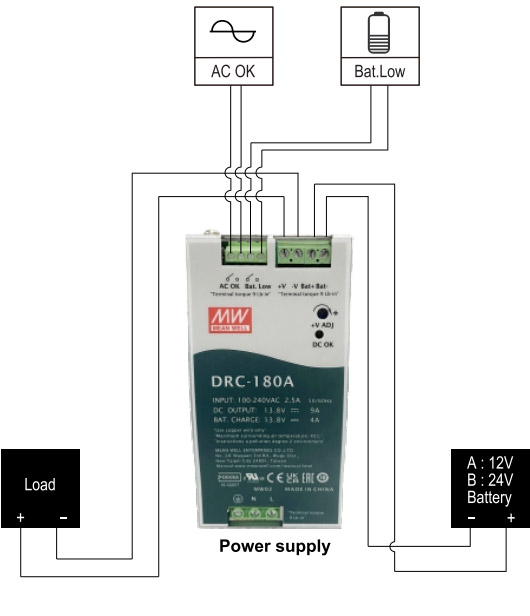 Wiring diagram
Power supplies have protection against overcurrent, short circuit, overvoltage and overheating, protection against excessive battery discharge and reverse battery polarity connection. The power supply is cooled by natural convection, without the use of a fan. Operating temperature: -20…+70°C. Warranty period: 3 years.
For more detailed technical specifications, see Specifications for DRC-180 series power supplies. For questions related to the selection and use of MEAN WELL products, please contact Meanwell@chipdip.ru .