C-600, Water quality meter

Images are for reference only,
see technical documentation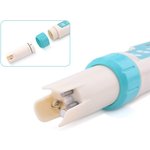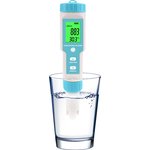 37 pcs. from the central warehouse,

term 5-7 working days
Add to Shopping Cart

1

pcs.
amount of

13 600

֏
Description
Use a high-precision probe that provides a quick and convenient test for total dissolved solids (tds).
C-600 is a 7-in-1 TDS Meter that measures the following water parameters: acidity (pH), electrical conductivity (EC), redox potential (ORP), salinity (TDS), salinity, density and temperature
Large screen display, displays all the necessary information
The wide range of tests makes it suitable for various applications, such as drinking water testing, swimming pools, hot tubs, laboratories, hydroponics, aquariums, well and tap water, etc.
Specifications:
pH measurement range: 0.01-14.00
Conductivity measurement range: 0-10000 µS/cm; 10.01 -19.9mS/cm; 20.1-400mS/cm
ORP measuring range: -999 +999mV
TDS measurement range: 0 - 1000ppm; 10.1-200.0ppt (g/l)
Salinity measurement range, %: 0 - 80
Density measurement range: 1.000-1.222
Temperature measurement range,°C: 0.1 to +60.0
Accuracy: ±0.01pH; ±2% F.S.; ±0.5°C
Technical parameters
Delivery terms
Delivery to Yerevan
Office CHIP AND DIP

10 October1

free

HayPost
13 October1
1 650

֏

2
1
estimated delivery date depends on the date of payment or order confirmation
2
for parcels weighing up to 1 kg