ECT3000B, Automotive Diagnostic Circuit Tester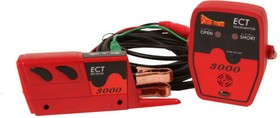 Images are for reference only,
see technical documentation
Price and delivery time on request
Add to Shopping Cart

1

pcs.
amount of

61 400

֏
Description
Options
Minimum operating voltage
6 VDC
Maximum operating voltage
48 VDC
Operating current
<200mA
Operating frequency
4KHz
Maximum operating temperature
50°C
Maximum storage temperature
70°C
ECT3000 allows you to quickly detect short circuits and open wiring.
Consists of 2 main components. "Smart Transmitter" and "Smart Receiver" together with a set of adapters for connection
Main functions
1 Detect short circuits
2 Trace the wires to see where they lead
3 Find open circuits, switches and breaks
4 Track and determine the cause of a severe battery drain
And many others
The transmitter is designed to generate grounded circuit signals and open circuit signals
The receiver is designed to detect ground circuit signals and open circuit signals from the transmitter.







Technical parameters
Tool type
tester
Purpose
multifunctional
Weight, g
950
Technical documentation
Video