MGShV-0.14 [Bay-10 M.], Mounting wire (white) [Bay-10 M.]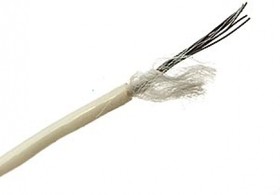 Images are for reference only,
see technical documentation
Price and delivery time on request
Add to Shopping Cart

1

pcs.
amount of

570

֏
Brand / Manufacturer:
Russia
Description
Wires intended for intra-device and inter-device installation, connections of electronic and electrical equipment.
MGShV - with tinned copper core with PVC insulation with an additional fibrous layer
MGShV-1 - the same, with an additional film layer
MGShVE - the same as MGShV, shielded
Wires of the MGShV, MGShV-1 and MGShVE brands with a cross section of up to 0.14 mm² designed to operate at voltages up to 380 V AC with a frequency of 10 kHz or up to 500 V DC, over 0.20 mm² - up to 1000 V AC or up to 1500 V DC current. The conductive cores are wrapped with polyester threads (MGSHV) or film (MGSHV-1) before applying insulation from polyvinyl chloride plastic compound. The screen in wires of the MGShVE brand is made of tinned copper wires.
Technical documentation