HB-4-1.0-600V (black) [Bay-6 M.], Mounting wire, per 1m [Bay-6 M.]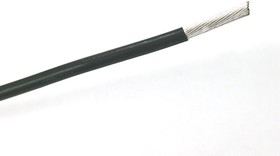 Images are for reference only,
see technical documentation
1 pcs. from the central warehouse,

term 5-8 working days
Add to Shopping Cart

1

pcs.
amount of

890

֏
Brand / Manufacturer:
Russia
Description
Mounting wire HB-4 is intended for operation indoors and under a canopy (in the absence of direct exposure to solar radiation and precipitation) in the circuits of electrical devices for general industrial use. Wires are resistant to vibration and shock loads; to gasoline, mineral oil and moulds. Operating temperature range: from -50°S to +105°S. Wires do not spread flame.

Description and design of the NV-4 wire
HB 4 - mounting wire with a core of tinned copper wires of the 4th class of flexibility according to GOST 22483, with PVC insulation.
Deciphering the designation:
"H" - not containing a fibrous winding;
"B" - PVC insulation (vinyl);
"4" - core class.

Since the wires are intended mainly for industrial applications and are designed for a long service life, GOST sets strict requirements for finished products in terms of structural, electrical and mechanical parameters.
The range of produced sections is from 0.08 to 1.5 mm2.
The cores must be twisted from tinned copper wires with a diameter not exceeding that indicated in the table.
The nominal thickness of PVC insulation is 0.35 mm for 600 V wires and 0.45 mm for 1000 V wires, the minimum thickness is 0.20 and 0.30 mm respectively.


Technical documentation
Delivery terms
Delivery to Yerevan
Office CHIP AND DIP

3 October1

free

HayPost
6 October1
1 650

֏

2
1
estimated delivery date depends on the date of payment or order confirmation
2
for parcels weighing up to 1 kg