RDC2-00201, Class D Low Frequency Amplifier. TPA3118. 2x30W. - switching on BTL or 60W. enabling PBTL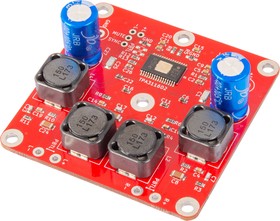 Images are for reference only,
see technical documentation
108 pcs. from the central warehouse,

term 5-7 working days
Add to Shopping Cart

1

pcs.
amount of

3 190

֏
Description
The bass amplifier is assembled on a TPA3118 chip.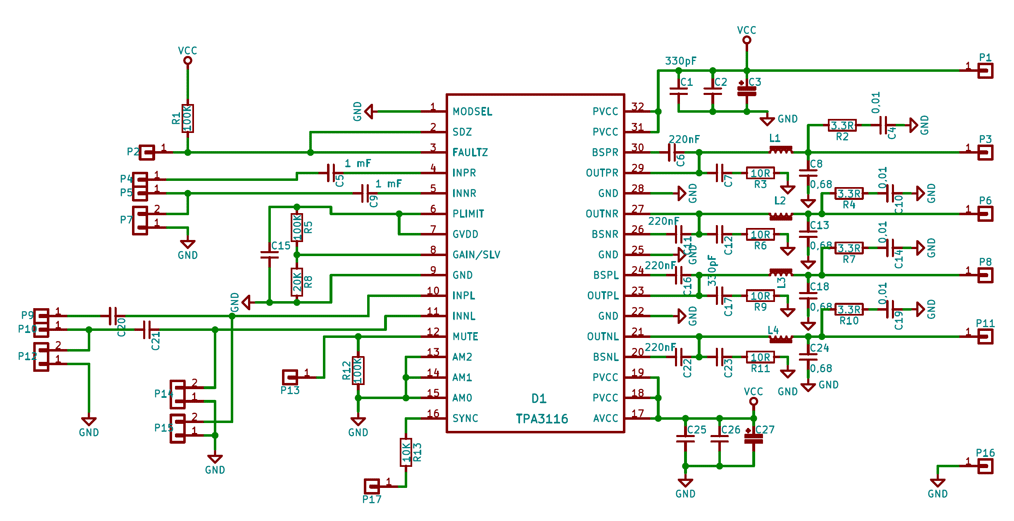 Specifications.
Power into a load of 4 ohms. at U pet. 21B. - 2 x 30W. (BTL), 60W. (PBT)
Input signal level. - 0.8 ... 2V.
Signal to noise ratio. - 102 dB
Harmonic coefficient at half power 25W. - 0.1%
Supply voltage - 4.5 V ... 26 V.
The circuit allows you to turn on the microcircuit in two modes:
1. Bridge BTL. In this inclusion, you can get 2 channels of 30 watts.
2. Parallel-bridge (PBTL). Since in this mode two BTL channels are also connected in parallel, then at the output we get one channel with doubled power - 60 watts.
The diagrams below show all the necessary changes for both modes.
1. Preparing the board for operation in bridged mode. Stereo 30W.
The assembled amplifier operates in bridge mode. But if you are signaling it on an unbalanced line, install jumpers P7 and P12. No more jumpers need to be installed.
2. Preparing the board for operation in parallel-bridge mode. One channel 60W.
Install jumpers P14, P15 and connect the jumper outputs of the amplifier P3 to P4 and P8 to P11.
Your amplifier will now be in parallel-bridge mode and output 60 watts. Connect a loudspeaker to P6 and P8. Apply the signal to the input of the right channel.
BTL mode
PBT mode
By selecting resistors R5 and R8, you can select the gain level and input impedance, as well as switch the amplifier to master or slave modes

We recommend as preamplifiers ( purchased separately ):
- RDC1-0034a , differential, high performance OPA1632 preamplifier
- RDC1-0048 NE5532 Low Noise Amplifier


This is an open project! The license under which it is distributed is the Creative Commons - Attribution - Share Alike license.
Technical parameters
Technical documentation
Delivery terms
Delivery to Yerevan
Office CHIP AND DIP

10 October1

free

HayPost
13 October1
1 650

֏

2
1
estimated delivery date depends on the date of payment or order confirmation
2
for parcels weighing up to 1 kg
Similar Products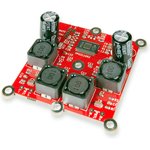 ChipDipDac
ChipDipDac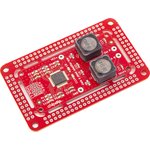 ChipDipDac