ROCK Pi 4 Model A 4GB, Rockchip RK3399 Single Board Computer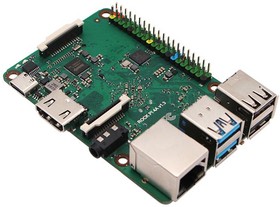 Images are for reference only,
see technical documentation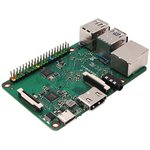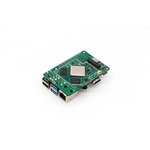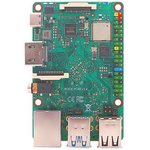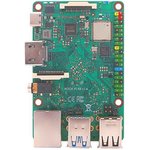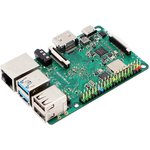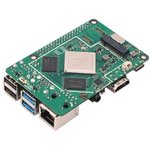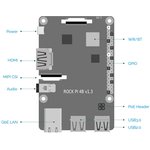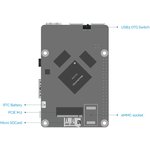 22 pcs. from the central warehouse,

term 5-7 working days
Add to Shopping Cart

1

pcs.
amount of

37 000

֏
Description
The ROCK Pi 4 Model A is a single board computer in a compact form factor based on Radxa's Rockchip RK3399. It can run Android or some Linux distributions. ROCK Pi 4 A is equipped with a six-core ARM processor, 64-bit dual-channel LPDDR4 3200Mbps, HDMI up to 4K@60, MIPI DSI, MIPI CSI, 3.5mm jack, USB port, GbE LAN. , 40-pin expansion connector, RTC. In addition, ROCK Pi 4 supports USB PD and QC power.
Specifications:

CPU
- Rockchip RK3399;
- 64-bit six-core (2 x Cortex-A72 1.8GHz, 4 x Cortex-A53 1.4GHz);
- Mali T860MP4 GPU, supports OpenGL ES 1.1/2.0/3.0/3.1/3.2, Vulkan 1.0, Open CL 1.1 1.2, DX11.

RAM
- 64-bit dual-channel LPDDR4 @ 3200 Mbps, 4 GB;

Data storage
- Slot for microSD memory cards, supports memory cards up to 128 GB;
- M.2 slot supports up to 2T M.2 NVME SSD.

Video interfaces
- Full size HDMI 2.0 up to 4k@60 (type A);
- MIPI DSI via FPC connector;

Audio interface
- 3.5mm Jack with Mic;
- HD codec supporting audio up to 24bit/96kHz.

Camera Interface
- MIPI CSI via FPC connector, support up to 800MP camera.

USB
- 1 x USB 3.0 OTG;
- 1 x USB 3.0 HOST;
- 2 x USB 2.0 HOS.

ethernet
- GbE LAN.

IO
- 40-pin expansion header (1 x UART, 2 x SPI bus, 2 x I2C bus, 1 x PCM/I2S, 1 x SPDIF, 1 x PWM, 1 x ADC, 6 x GPIO, 2 x 5V DC power in, 2 x 3.3V power pins).

Food
- Support USB Type-C PD 2.0, 9V/2A, 12V/2A, 15V/2A, 20V/2A;
- Support QC3.0/2.0 adapter, 9V/2A, 12V/1.5A.

Dimensions
- 85mm x 54mm.

Technical parameters
Processor type
RK3399 4-cortex-a53 2-cortex-a72
Processor frequency
1.4 GHz
RAM
4 GB
GPU
Mali T860MP4
Supported operating systems
linux, android
Installed interfaces
m-sd, hdmi, ether., usb, i/o
Weight, g
196
Technical documentation
Delivery terms
Delivery to Yerevan
Office CHIP AND DIP

10 October1

free

HayPost
13 October1
1 650

֏

2
1
estimated delivery date depends on the date of payment or order confirmation
2
for parcels weighing up to 1 kg