SC15 Servo, Programmable Servo, 17kg.cm/8.4V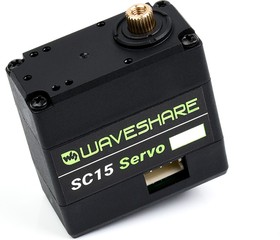 Images are for reference only,
see technical documentation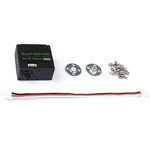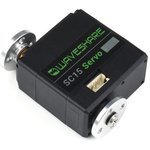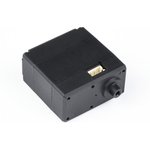 22 pcs. from the central warehouse,

term 5-7 working days
Add to Shopping Cart

1

pcs.
amount of

9 700

֏

Description
High torque PSB servo, it can control the angle within 180°, and can switch to motor/stepping motor mode, which can continuously rotate within the program. There are two interfaces on each servo that can be used in series. Theoretically, 253 bus servos can be controlled simultaneously, and each servo can receive information such as current angle, load, voltage, mode, and so on. It is suitable for robot projects requiring steering angle and load feedback, such as manipulator robots, six-legged robots, humanoid robots, wheeled robots, etc.

Peculiarity:
- Up to 253 servos can be connected in series at the same time (requires full power), and can also receive feedback information from each servo;
- Wide input voltage range: 4.8-8.4V;
- Large torque, up to 17kg cm torque at 8.4V voltage;
- High precision, angle control accuracy reaches 180°/1024;
- The operation mode can be set by the program: angle servo control mode / motor mode (can rotate continuously).
- The servo is controlled by the Servo Driver with ESP32 board.

Specifications:
- Input voltage: 4.8-8.4 V;
- Mechanical limited angle: no limit;
- Angle of rotation: 180° (angle control in servo mode) / 360° (continuous rotation in motor mode);
- Data transfer rate: 1 Mbps;
- Gear: high precision metal gear;
- Idle speed: 0.18 s/60° at 4.8 V 0.16 s/60° at 6 V;
- Position sensor resolution: 180°/1024;
- ID range: 0-253;
- Feedback: position, load, speed, input voltage;
- No-load current: 200 mA;
- Stop current: 1700 mA;
- Size: 40.5mm x 40mm x 20mm.
Technical parameters
Component type
servomotor programmable
Supply voltage, V
4.8…8.4
Rotor rotation angle, degrees
180/360
Rotational speed
0.16…0.18 sec/60gr
Torque, kgf.cm
17
Weight, g
70
Technical documentation
Delivery terms
Delivery to Yerevan
Office CHIP AND DIP

10 October1

free

HayPost
13 October1
1 650

֏

2
1
estimated delivery date depends on the date of payment or order confirmation
2
for parcels weighing up to 1 kg